Welcome To The New Typing.com!
Get ready for the new version of Typing.com, now available. Based on the feedback from tens of thousands of teachers and millions of students around the globe, we've built the most amazing typing software, and we know you're going to love it.
And don't worry, if you and your students aren't ready to switch, you can still access the old Typing.com at any time at http://classic.typing.com
Migration
Your account is all ready to go on the new Typing.com. Simply log in as you always have, however since the new typing.com features a brand new typing curriculum, student statistics and typing progress will not copy over, however you (or your students) will always be able to access existing account at http://classic.typing.com.
What's New for Students?
Brand New Look
Simple, clean, and easy to navigate. The new Typing.com is built for all grade levels and ages.
Badges & Stars
Students are constantly motivated by being awarded stars for accuracy, and badges for lesson completion, just like in their favorite games!
New Typing Curriculum
Based on your feedback, we set out to build a course that better eases students into typing with all 10 fingers, while being even more enjoyable and interesting.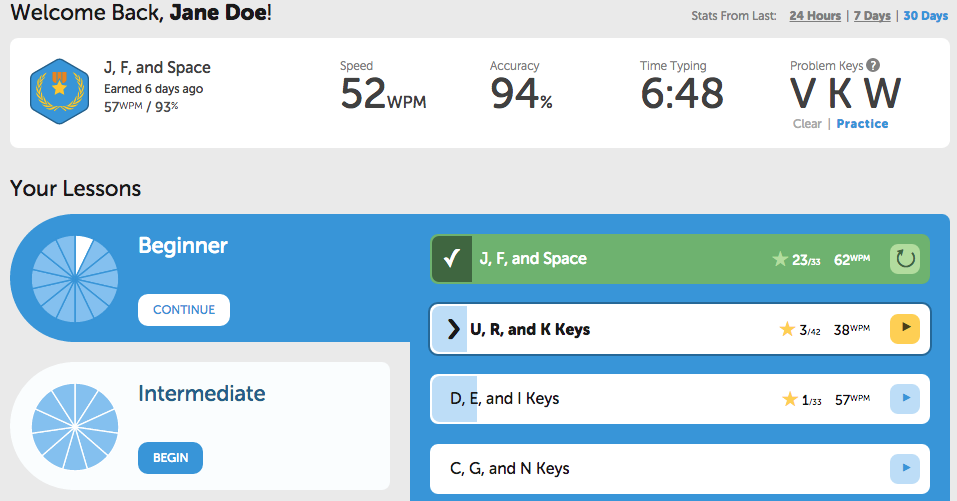 Timed Tests
Finally… Timed Tests! Students can choose from 1, 3, or 5 minute tests. Every test also includes a beautiful printable certificate.
Retype Specific Exercises (without restarting the whole lesson)
One of our most requested features, students can now access and retype any of the previously typed screens without having to restart a lesson from the beginning.
Better Tablet Support (no Flash Requirement)
The typing lessons are 100% supported by modern tablets and even phones. And even typing games will be supported by the end of the year!
Improved Reliability
We've rebuilt Typing.com from scratch, using the latest browser technologies, to provide the most stable, reliable, and fastest learning tool possible.
What's New for Teachers?
Single Sign-On Support
That's right. Use Clever (free) to seamlessly sync your district's SIS, and log in securely using your student and teacher district credentials. Or if you don't need syncing, but you use Google SSO, we've got that for you too! And all this is completely free. Coming in July!
Overhauled Reports
We overhauled the reporting system by adding new reports, filters, and additional options to assist in grading.
Transferable Premium Memberships
Premium student memberships can now be transferred from one student to another! When a student with a premium account completes the course, simply downgrade that account, and upgrade a new student. It's just that easy!
Comprehensive Time Spent Typing Statistic
Everything counts! The time spent typing statistic now captures the time spent on repeated exercises, practice lessons, and timed tests. Note that this stat still excludes typing games and problem key lessons.
Local Time Zone Support
The timestamps that appear on the reports and activity logs will be based to your local time zone automatically.
And so much more!
There are so many improvements, it's hard to even remember them all! We suggest you get in there and start using the new Typing.com immediately!